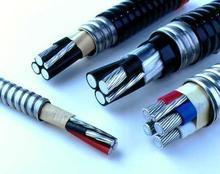 According to China Customs data, the total exports of China's aluminum stranded wire, cable, braided tape and similar (customs code 7614) projects were 7864 tons in November, and the cumulative total exports from January to November was 110,190 tons, a year-on-year increase of 6.7%. . Domestic manufacturers, however, said that although total exports increased in 2012, corporate profits fell instead.
According to SMM statistics, exports of uninsulated steel-core aluminum stranded strands, cables, braids and similar (76141000) from January to November 2012 totaled 67,179 tons, a year-on-year decrease of 18.7%, while other uninsulated aluminum strands The total export volume of lines, cables, taping and the like (76149000) was 43,011 tons, an increase of 108% year-on-year.
According to the SMM survey, Guangdong engaged in aluminum wire cable and other export companies such as ACSR, said that in 2012 compared to 2011, the total export volume increased slightly, but the total corporate profits fell compared to last year. Mainly due to the increase in the number of aluminum cable export enterprises engaged in 2012, the competition among enterprises has been under pressure, and in addition, the exchange rate of RMB has risen, which has also caused the profitability of enterprises engaged in exports to decline.
For export of aluminum cables in 2013, cable companies stated that there is still room for growth in total export volume, because export trade can return funds in a relatively short period of time, and companies that supply state-owned and South China aluminum wire cables generally have long recovery periods. On the basis of the same price, enterprises are more willing to choose exports in order to achieve cash flow in a short period of time.
When you get into trouble, for example, dark, emergency or outdoor activities. You must be need a Cob Aluminum Flashlight. Our products have 1-5 modes, the modes of every COB Aluminum Flashlight can customized. Usually, people prefer 3 modes;
Our products equipped with new COB LED technology, some products have a zoomable feature, you can ajust its focal distance according to your demand;

The anodized aluminum body and recessed LED housing ensures that the COB Aluminum Flashlight can handle any situation.
All of the flashlight have simple on/off push button operation;
COB Aluminum Flashlight for emergency events, camping, outdoor activities and indoor, due to the products have high power, they can irradiate long distance;
Our products are saled with factory price, and the quality can guarantee, lastly we provide warranty for 1 year.
COB Aluminum Flashlight
18650 Tactical Flashlight,Cob Aluminum Flashlight ,Cob Aluminum Torch,T6 Tactical Flashlight
Ningbo Henglang Import & Export Co.,Ltd , https://www.odistarflashlight.com