In the past two years, the size of television has become larger, clearer, and more content-rich. Many users are no longer willing to go to the cinema to watch movies. Instead, they can feel the same atmosphere as a movie theater at home. And the current high-end TV has also been upgraded to 4K resolution, with a large-size screen, the overall effect easily gives the user a visually stunning experience. So for us, those big size TVs are worth buying.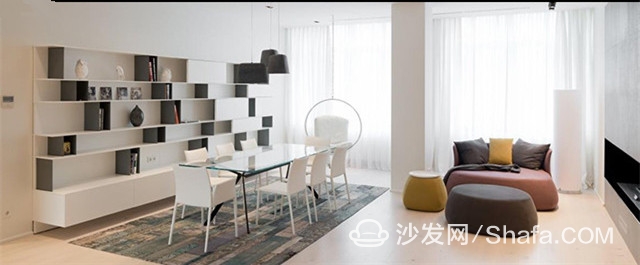 Dual twelve high-end TV recommendations
Judging from the resolution, for the lack of 4K resources, this is a well-known thing, but from the current situation, more 4K resources are meeting with us, and the 4K-retrofitted film and television resources have also become more and more. 4K playback chips and players are also more around us, can not help but that 4K TV has more to occupy our family, and for the future development of 4K is definitely a trend, so buying 4K TV should be very current Good start choice.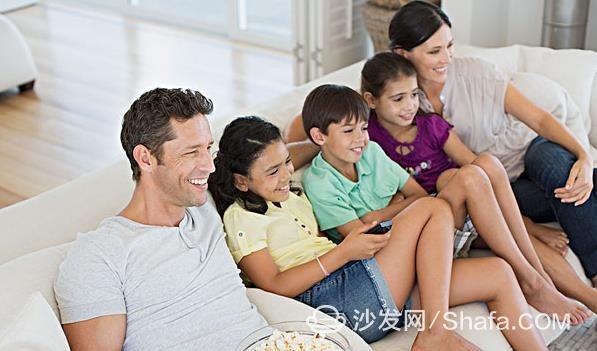 Five high-end TV recommendations
The price is a headache for many consumers when they choose TV products. The price of cheap products is not good, they are expensive, and they don't know where to start. The current TV market is actually very chaotic. Traditional TV, Internet TV, Quantum Points, OLED TVs, etc., many users will be confused by a variety of new concepts, thereby increasing the difficulty of purchase. Double Twelve has arrived, users do not have to buy favorite television products in the double 11 do not have to worry about, the following author will bring you several high-end high-quality television products, take a look at it.
SUHD Ultra High Definition Samsung UA55KS9800
The KS9800 series TV is equipped with a cadmium-free 10bit second-generation quantum dot display with a curvature of 4200. It can restore up to 1 billion colors and has a maximum brightness of 1000nit. At the same time with Samsung's deep black anti-reverse, automatic depth of field technology, greatly reducing the screen glare, increase the screen layering, to ensure that from different perspectives can get a similar and consistent viewing experience. At present, this UA55KS9800 TV in the United States online price of 12,499 yuan, interested friends may wish to look at.
The KS9800 second-generation curved quantum dot TV adopts curved surface design with unique appearance, and can also enhance the depth and stereoscopic sense of viewing. In terms of interfaces, the KS9800 provides four HDMI, three USB, one component input, one AV input, one LAN cable jack, one digital audio optical fiber output, and one RF interface, which is sufficient for high-end applications.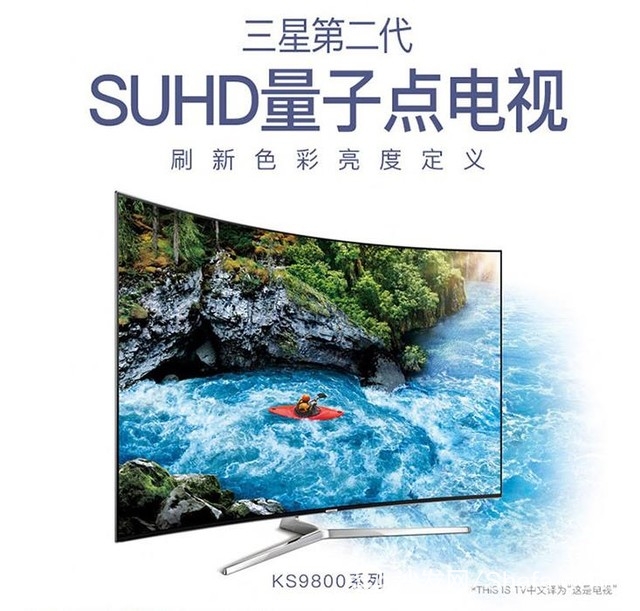 Samsung UA55KS9800
On the software side, the SUHD TV KS9800 is running a new version of the Samsung Tizen intelligent system. The smooth operation, user-friendliness of the UI, and functionality have all been significantly improved. With Samsung's upgraded Smart Hub, Smart View, multi-screen technology, etc., it is easy to implement cross-device, cross-platform connectivity and instantly share favorite content with family members.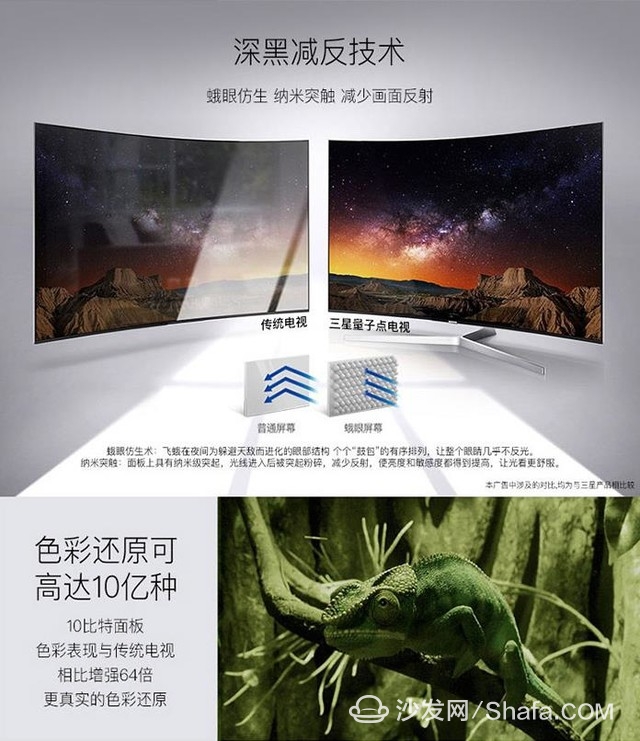 Up to 1 billion color reproduction
With excellent display chips and a novel technology foundation, Samsung has been among the best in the world TV manufacturers. Over the years, it has had a good reputation and high-quality workmanship, and has laid a very good reputation for its products. The KS9800 brought to you this time is a curved 4K ultra-high definition television based on Samsung's second-generation quantum dot technology. The flagship positioning is destined for this product's extraordinary. Samsung's achievements in curved screens are undoubted. The maturity of quantum dot technology, high-end technology, big brands, big manufacturers, and flagship products are waiting for you.
Samsung UA55KS9800
[Reference price] 12,499 yuan
ULED Ultra HDTV Hisense LED55MU8600UC
Hisense's performance this year was enough to describe it as "bright eyes". First, it released its new generation ULED ultra-definition Internet TV in April, and applied the third-generation ULED technology and Hisense's independently developed Hi-View Pro quality chip. This SOC picture quality chip is also the first TV chip in China. At the same time, Hisense ULED 3.0 ultra-definition TV will also increase the brightness of LCD TVs to 1200 nits, achieving tens of millions of contrast ratios and ultra-high color gamut, which will push LCD TVs to a new level. At present, this Hisense LED55MU8600UC Jingdong Mall in the price of 9399 yuan, interested friends may wish to look at.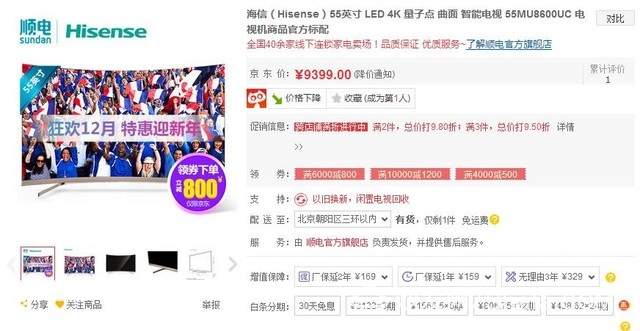 The Hisense MU8600 TV adopts a bi-directional 4KM EMC+ technology, which enhances the display effect through vertical two-way scanning, thereby expanding the search scope. In the scenes of high-speed sports such as ball games and motorcycles, it is possible to reduce the phenomenon of smearing and ghosting to human eyes. The degree of awareness. When watching sports TV subtitles, there will be no jitter.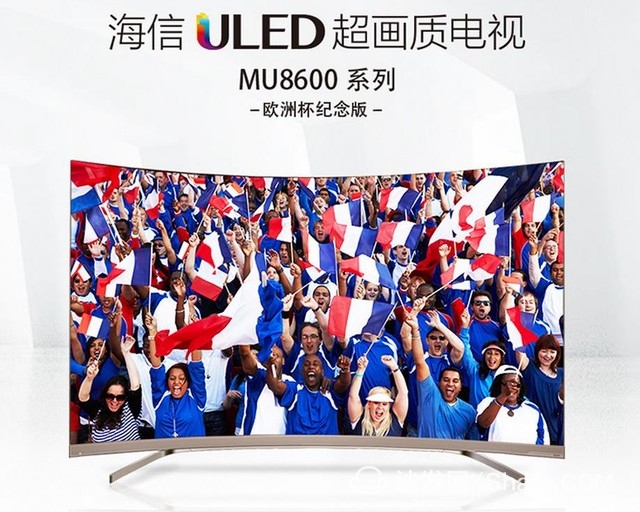 Hisense LED55MU8600UC
Hisense MU8600 has a high color gamut technology, so that the color gamut has been effectively improved. Ordinary color gamut technology is a blue LED lamp that illuminates a yellow phosphor to stimulate a white backlight. The Hisense high-color gamut technology is a yellow phosphor made by irradiating a precise proportion of the ratio of the blue LED lamp. The yellow phosphor is made of two kinds of phosphors, red and green, to optimize the purity of the yellow phosphor. White light source, effectively enhance the color performance and color layering.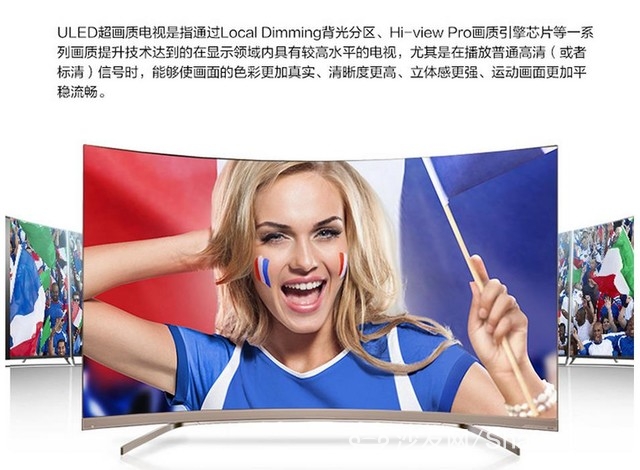 A variety of high-end quality technology
Hisense MU8600 TV has even surpassed Japan and South Korea TV products in many core display technologies and configurations. The selling price of less than 10,000 yuan also makes it more competitive. Based on such a good product experience, the number of active users of Hisense's global smart TV has exceeded 18 million, and this number will increase to 45 million by 2018. Hisense's activation users will gradually become one of the largest in China and possibly the largest in the world. TV network media.
Hisense LED55MU8600UC
[Reference price] 9399 yuan
OLED slim TV Skyworth 55S9D
At present, OLED technology continues to mature, the product has a unique advantage, has become the darling of the high-end TV market, today we will bring everyone a Skyworth high-end 55-inch OLED TV product "S9D", this TV is also the world's first AR TV (Augmented Reality Technology), this TV product with HDR, OLED, AR, and many popular technologies is currently selling for 15999 yuan at Suning. Interested friends can look at it.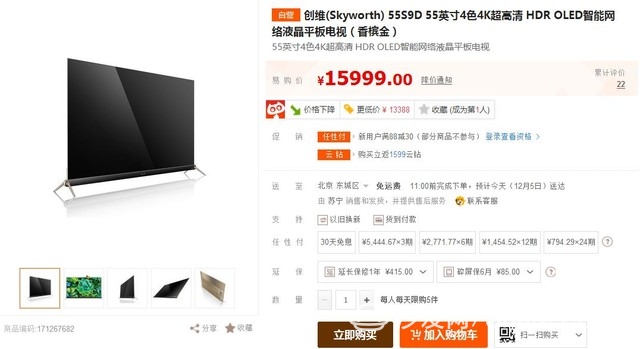 The 4-color HDR LCD panel not only has a more perfect resolution of HDR sources, but also has features such as an ultra-wide viewing angle, high brightness, and low power consumption. More importantly, the 4-color HDR display panel continues the OLED ultra-wide viewing angle and color. The advantages of high degree of reduction, which is of great significance to the mainstream consumer groups, OLED self-luminous technology, due to abandon the backlight of the traditional LCD panel, you can also minimize the emission of harmful blue light to protect our eyesight.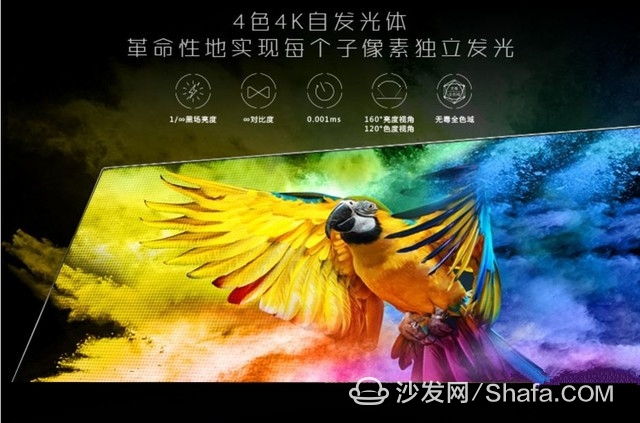 Skyworth S9D TV Features
OLED+HDR can undoubtedly bring about more outstanding picture performance. Because HDR technology requires high partition, high luminance range, high contrast and other requirements, it is perfectly matched with the characteristics of independent emission of each pixel of the OLED screen. The 4-color HDR technology adds the HDR algorithm to the 4-color 4K screen body, allowing OLED and HDR technologies to complement each other and stimulating their maximum potential. Skyworth S9D TV adopts this high-end HDR technology, which achieves intelligent brightening screen effects with its unique 4-color screen control chip and 4-color display screen, which greatly improves the dynamic range of the screen and ultimately displays the HDR content without loss. Even when non-HDR signals are input, the 4-color HDR algorithm of the 4-color screen control chip can be used to intelligently convert common SDR signals to achieve HDR effects, so that the OLED and HDR technologies can be perfectly integrated.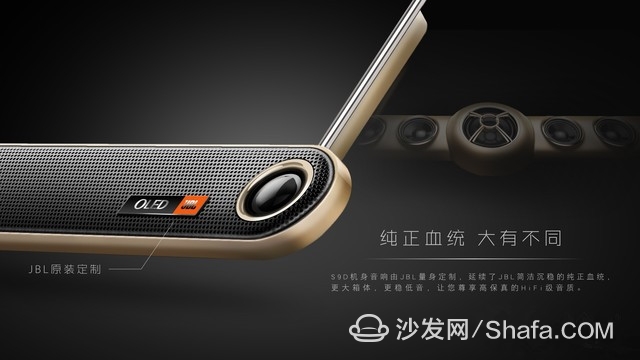 Skyworth S9D JBL tailored audio
In general, Skyworth S9D is a very worthwhile purchase of OLED, HDR, 4K models, 55-inch large screen is enough to create home IMAX-style viewing, good sound quality presents further enhance the family audio-visual, there are enough The ability to run ensures full power. As a high-end TV model, Skyworth S9D is outstanding, both in terms of appearance and connotation. If you want to get the most extreme viewing experience, then you really want to give priority to this TV.
Skyworth 55S9D
[Reference price] 15999 yuan
Quantum Dots + Thin Surface TCL Q65X1S-CUD
Not long ago, TCL solemnly released high-end sub-brands - XESS and its new products, the X1 heavy participation, as the XESS flagship product, the most influential world-class exhibition in the year, the United States CES and the German IFA At the exhibition, consecutive gold medals were won. X1 is one of the most representative high-end products in 2016. At present, XESS 65-inch TV is priced at 29,999 yuan in the official TCL Mall. Interested friends may wish to pay attention.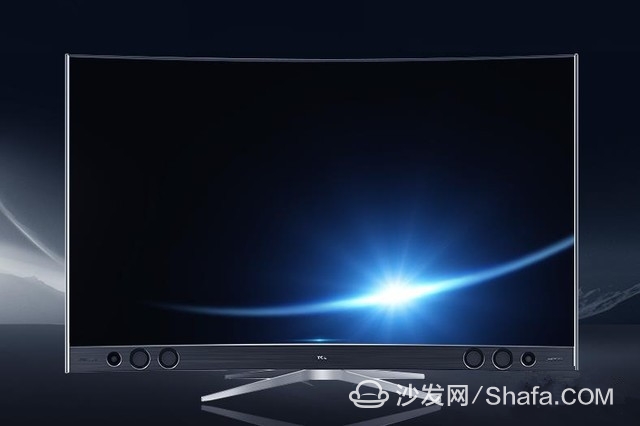 TCL Q65X1S-CUD
XESS creatively uses the 4000R gold visual curvature screen with the same curvature as the human eye to provide users with a stunning immersive viewing experience. Whether it is like HBO's genuine American drama, exclusive cinema new movie, sports events, or game-playing consumers, TCL's surface TVs are full of high-quality, free content that can't be viewed, and it is always in line with the sense of field. The viewing requirements will allow users to enjoy the visual feast during the National Day.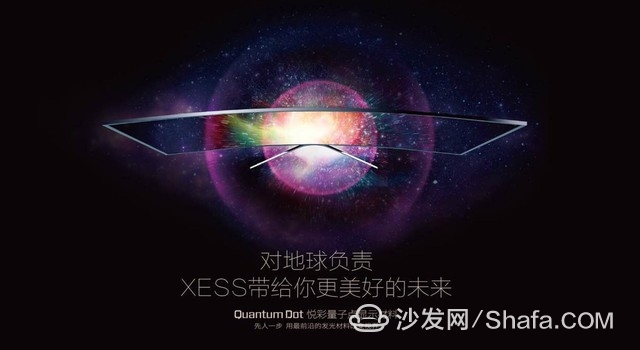 Quantum dots display material
Another major breakthrough for XESS TV was to directly increase the peak brightness to 1500 nits, which made the OLED products with a peak brightness of 600 nits overshadow. The human-readable range of brightness is from 0.00001 nits to 20000 nits, while the display brightness of traditional TVs is only 0.117 nits to 400 nits. In addition, TCL has taken the lead in challenging the higher standards and will fully satisfy resources, hardware, and software for HDR solutions. Finally obtained DolbyVision certification standards.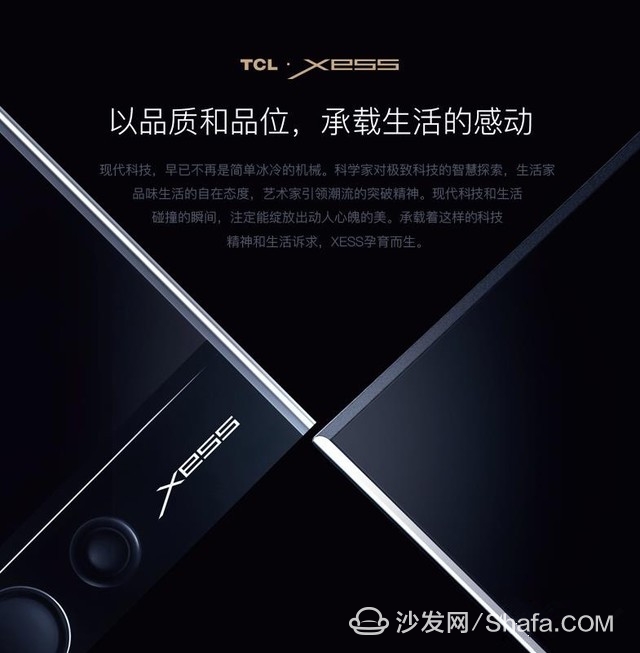 Carrying life with quality and taste
The X1 is equipped with the world's top display technology, including Quanyue Quantum dot display technology, brilliant image quality processing engine, Dolby Vision HDR, and Local Dimming partition backlighting, to achieve a huge leap forward. In the open test of the National Quality Supervision and Inspection Center for Radio and TV products not long ago, XCL-based TCL televisions were proved. The main performance indicators are much higher than the industry average, including X1 color gamut coverage (DCI-P3) is large. The highest values ​​in the database, the peak brightness exceeding the industry average of 77.9%, and the color brightness exceeding the industry average of 26% have broken the current industry level.
TCL Q65X1S-CUD
[Reference price] 29999 yuan
Dynamic backlight master Sony KD-65Z9D
Not long ago, Sony officially announced its flagship new 4K HDR TV Z9D series overseas. The Z9D series is not only equipped with a dynamic backlight system - Master Edition technology, X1 Extreme image processing chip, but also the most 100-inch specifications, has become the most historical size of Sony TV. One Z9D series 65-inch TV products in the Jingdong Mall price 30,999 yuan, interested friends may wish to look at.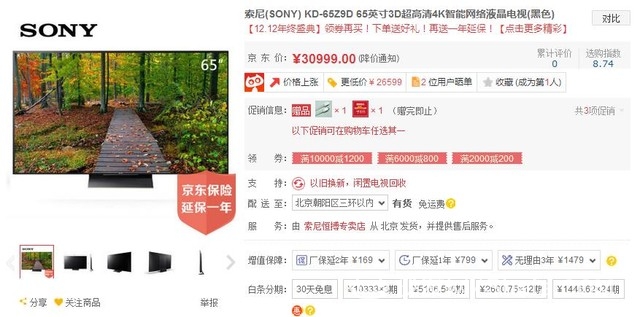 Sony Z series TV equipped with Sony Backlight Master Drive backlight technology, so that the highest TV can even reach 4,000 nits of brightness, the past traditional LED TV peak brightness is generally less than 500 nits, and other companies this year, the highest HDR TV brightness It is generally around 1000 nits. Sony is also equipped with a 4K HDR image processing chip X1 Extreme on the Z9D series. According to Sony's official data, the chip's real-time image processing capability is 40% higher than the previous-generation 4K image processing chip X1, which can provide users with more precise, more detailed, more realistic display effects and an unprecedented visual experience.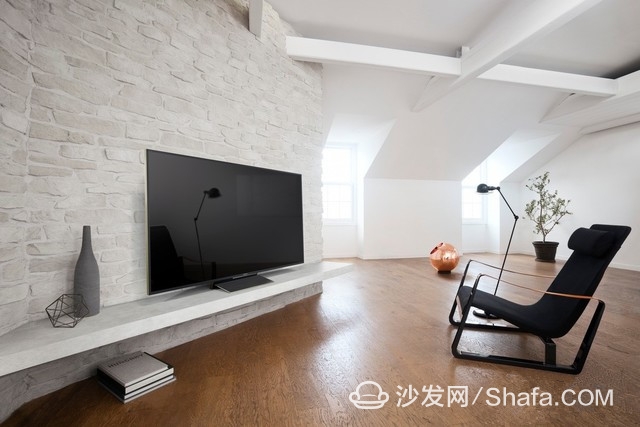 Sony Z9D series TV
The Z9D series TV is equipped with a "Backlight Master Drive" technology, which changes the layout of the common side-entry backlights on current LCD TVs, using high-density direct-to-back matrix backlights. The precise control of the screen brightness. Sony also significantly reduced light scattering on traditional full-matrix LED TVs by concentrating scattered LED light to one point, resulting in higher color contrast and wider color gamut.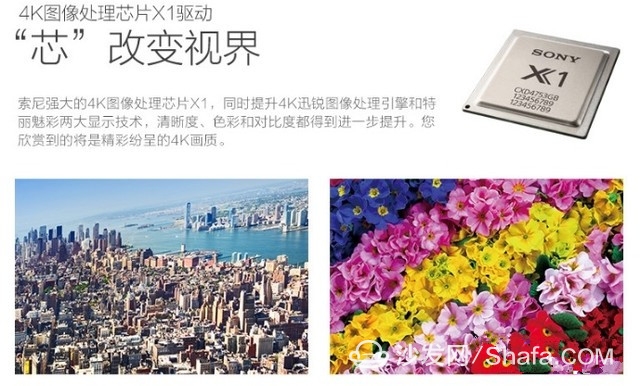 4K image processing chip
It is reported that the 4K HDR image processing chip X1 Extreme can also improve the SDR standard dynamic range content quality of the HD specification to a level close to the native 4K HDR. It uses Sony's image database to perform noise reduction processing. Through pattern comparison, dual database processing technology using "dual database processing" is used to remove unnecessary noise in each frame of the image and finally achieve 4K-level definition.
Sony KD-65Z9D
[Reference price] 30,999 yuan
Smart TV/box information can focus on smart TV information network sofa butler (http://), China's influential TV box and smart TV website, providing information, communication, etc. on TV boxes, smart TVs, smart TV software, etc. Answering questions.
LED Module Indoor Full Color P4 Module Indoor LED Display Module using the newest generation technology, 62500dots per square meter. P4 Module Indoor Full Color with high refresh rate, anti corrosion, anti mildew, anti shock, anti electromagnetic. P4 LED Display Module is one good choice when compare Indoor Full Color LED Display Module. We sincerely invite customers all over the world visit us for cooperation.
P4 Module Indoor,Led Module,Indoor P4 Led Module,P4 Smd Indoor Led Module
Shenzhen Jongsun Electronic Technology Co., Ltd. , https://www.jongsunled.com